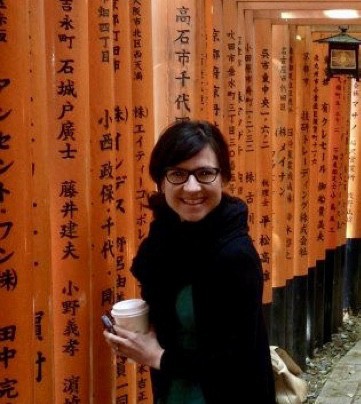 Breawna Power Eaton
Breawna holds advanced degrees in education and creative writing and has over 17 years teaching English, writing, and the humanities in a range of educational settings, from High Tech High, an innovative public high school in California, to semester-at-sea programs, to on the university level in East Asia.

For Breawna teaching literacy skills is about empowering people of all ages to clearly communicate their ideas to a particular audience for a specific purpose. Whether teaching literature or writing, she aims for students to learn how to read like a writer, simultaneously deciphering what writers are saying (content) and what they are doing stylistically, rhetorically, and mechanically to ensure readers understand. Breawna helps students learn how writers strategically use diction and style to elicit their desired response and then incorporate these writing tools into their own unique writing approach. The ideal course, in her view, blends creative and academic writing, as both forms can be used to enhance each other.

Breawna began teaching English as a high school teacher in 2004. Ever since, she has taught and created curriculum at traditional and project-based schools, both in-person and online. Living in and teaching English in Japan, both to classes and individual students of all ages, gave her first-hand experience in being a language-learner and a teacher to those admirably learning English as a second (or third or fourth) language. In addition to her work as a teacher Breawna has spent a number of years as a freelance journalist, writing personal essays, interviews, and features for a range of publications. Through this work she has come to the view that true writing begins in revision.
Teaching Philosophy & Approach:
"The benefit of working one-on-one with a student is the opportunity to truly mold curriculum and learning to that student's interests and needs," says Breawna. "For this reason, I prefer to build curriculum throughout the year, with specific short-term and long-term learning objectives in mind." An example course format would include a face-to-face lesson on Monday or Tuesday, during which Breawna and the student would discuss a reading, review recent feedback on writing assignments, and brainstorm for the next writing challenge (be it a step of the writing process or a draft), which would be due by the end of the week. "Our goal would be to build skills in reading, research, and writing, while also learning about the power of the written word to entertain, to disrupt injustice, and to inspire."
Teaching Level:
Middle (6 - 8)
High School (9 - 12)
Teaching Type:
Tutoring
Full-Semester Classes
Full-Year Classes
Subjects:
Literature
Creative Writing
Comprehension and Grammar