Our Story
Cicero began on a boat somewhere off the coast of Papua New Guinea. It was here that we, Lani Bevacqua, Paul Bennett and our three daughters, Stella, Cleo & Jade had our first Zoom call (over a pretty janky internet connection) with Hadley Westman, an inspiring young master educator, and kicked off a relationship that completely changed our educational lives.

Working with Hadley and eventually a small team of similarly-minded teachers, the Dafnes as we were called (after our boat, Dafne), evolved a new way to learn by matching themselves one-on-one with great teachers to build individualized curricula around their personal goals. Whether it was high school-senior Stella workshopping her college essays with a literature teacher, Sophomore Cleo going deep on marine science with a biology teacher, or seventh-grader Jade discovering Latin cum magister eius, the Dafnes found that by pairing with an educator pushed them farther than a classroom experience ever had.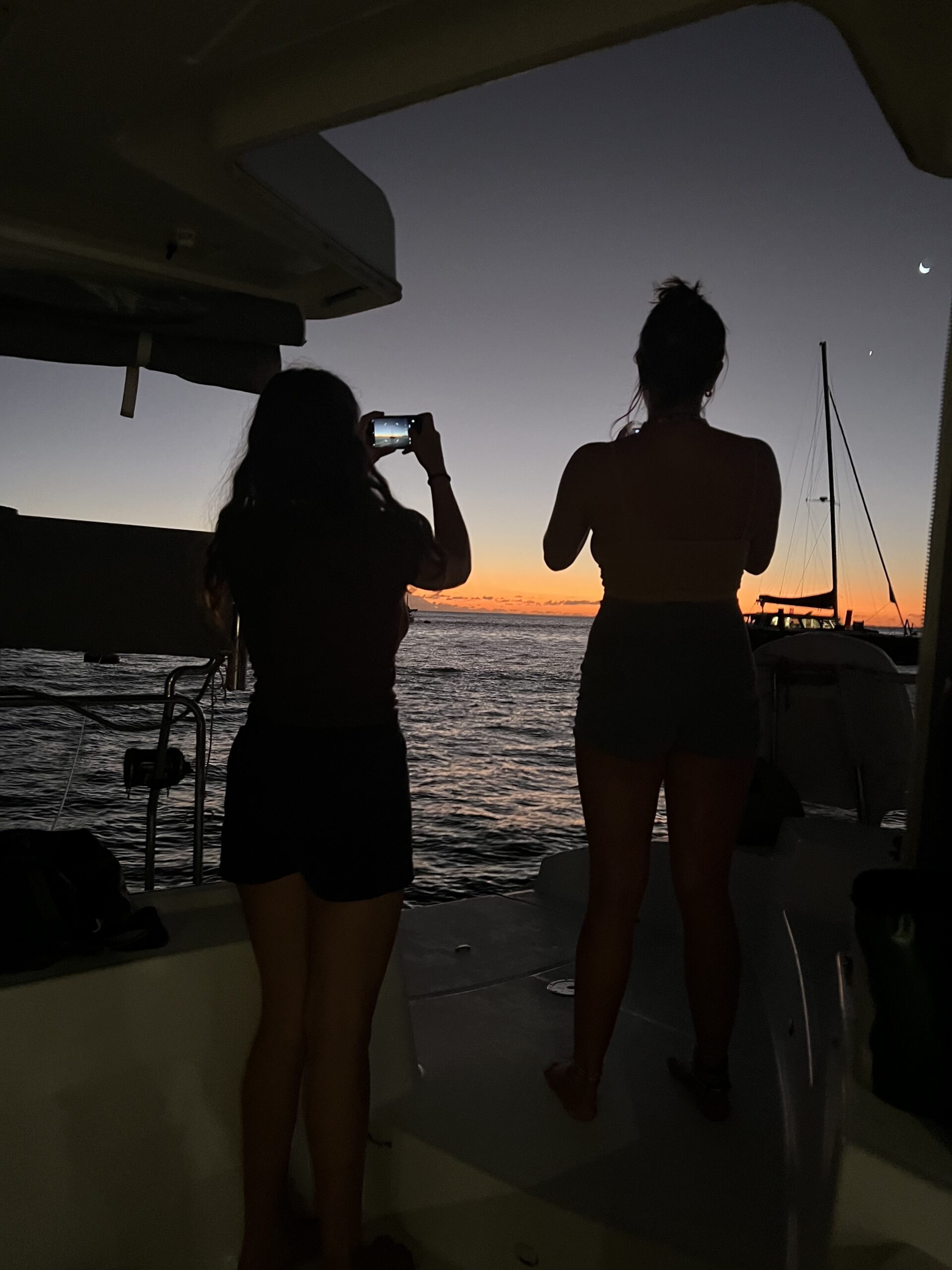 Where are they now?
Our oldest is a junior at The University of Chicago with a dual major in urban studies and international relations and a minor in architecture. Our second daughter is currently taking a gap year and volunteering/traveling in Africa, South America, and Europe. She was accepted early decision to Pomona College and will start there in August. Our youngest is in 9th grade and taking a suite of four classes through Cicero: math, English, biology, and Latin. She is happily still sailing aboard Dafne and debating whether we should stay in the Caribbean or head into the Mediterranean for her 10th grade year.
How Does it Work?
How Cicero operates: Work with an educator to develop a year-long course of study with weekly, one-on-one instruction and deliverables based around the learner's interests, the family's context, and the educator's expertise. With 60-minute meetings each week over video as well as regular check-ins via Google Classroom and WhatsApp, we discovered that our young learners had strong connections with their teachers and were more engaged and challenged by school than ever before. The personalized aspect of the arrangement also fit our lifestyle as we crossed oceans and explored far flung places.
Cicero was a lawyer and philosopher in Ancient Rome who stood up to Julius Caesar and decried the death of the Roman Republic. In other words, he was on the right side of history. But, he was also an educator in a public sense and advocated the idea that each person has a moral duty to develop him/herself to the fullest. Education wasn't just a nice-to-have for Cicero. It's fundamental to our being.

In the 18th century, English adventurers on their grand tour of Europe hired archaeologists in Rome to show them the newly-unearthed antiquities. They thought of these experts as teachers and called them cicerone after Cicero, a word that now means "guide" in Italian.